About Us
Atom Networks is a provider of enterprise hardware, connectivity and consulting headquartered in Orlando, FL. Our offering is focused on simplifying the overly complex technology landscape for your business. Quotes should take minutes, not weeks. And you should be quoted exactly what you want, not a pushy salesperson trying to make this month's quota.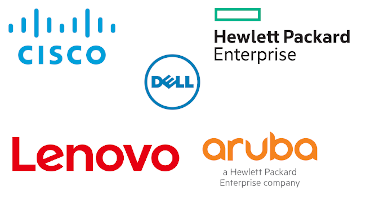 Our mission is to meet the enterprise hardware needs of each and every business to the very best of our ability with uncompromising integrity, the highest quality of product and a passionate commitment to serving our customers. Connect and keep your system moving seamlessly with top-tier networking equipment. Whether you're looking for Cisco, Aruba, Meraki, Ubiquiti, or other leading brands, we'll help you get your network set up and ready to run. The heart of your network has to meet your precise needs. That's why we offer the best new servers from HPE, Supermicro and more. From a custom-configured ProLiant to a lean Supermicro, we'll deliver the exact server setup you're looking for.
We will get to know your organization, its technology and business needs, and then support those needs. We start by meeting with you to learn what you do, how your business works, what your goals are, and then provide options for going to market to find the best options for customized IT business services. This includes network services, cloud, voice, managed services, and IT security. We primarily focus on Computer Network and Infrastructure needs. We help analyze your network and ensure your systems are working effectively. Get help managing all the details; including routing and switching needs, data center, software defined networking and management. Ensure your network is running smoothly so you can focus on delivering quality products and/or services to your customers. If it makes sense to bring in an external consulting partner for a particular project, we have an extensive network of consulting resources to assist with your project.
Ensuring your telecommunications infrastructure and services, whether it be your fixed lines, VoIP, Internet, Inter office Data or mobile fleet are working optimally is crucial for the ongoing operation of any business regardless of its size, number of staff or industry. Equally as important is only spending what you need in those areas. Why would you unnecessarily pay more for services, as that money can be invested in improving your business. However, a lack of market awareness or time to do proper research can result in your business getting a raw deal from your incumbent telecom provider. Engaging a broker to review your telecommunications needs provides you with access to a subject matter expert that is up to date on not only the latest technology trends, but also which providers are the most competitive and which ones can provide the best service and support, as these can change from year to year based on market forces and acquisitions. Once we understand your requirements and the outcomes you are trying to achieve, we present several options. You are under no obligation to sign and are free to make your own decision. We receive a commission from the telecom company, meaning that we do not charge for this service.